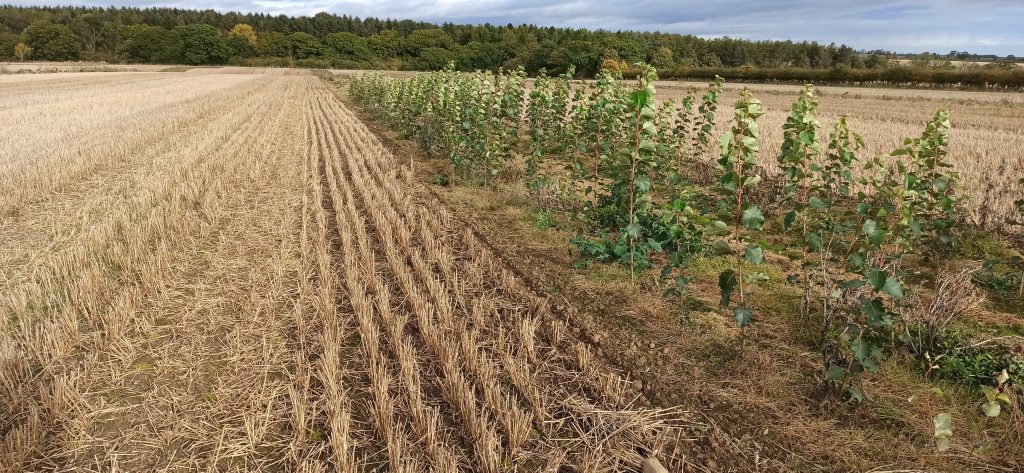 The UK North of England Living Lab spans the counties of Yorkshire, Durham, Northumberland and Cumbria. This region of England is cooler than the south with high rainfall in the west (Cumbria) and lower levels of precipitation in the east. The land in the lower lying areas is good for agriculture (Grade 3 or occasionally 2 in some areas) and suited to arable crop production and some horticulture. Land capability becomes more marginal as elevations increase, with 'upland' areas classified as those with an elevation greater than 300 m above sea level. In these regions, the land may be Grade 4 or 5 and only suitable for grazing or forestry.
The Living Lab is a newly formed group of individuals with interests in integrating trees into agricultural systems in this region. It involves a diverse selection of farms with contrasting farming systems and business models. All the farm sites are interested in finding innovative ways to farm the land that include trees for a range of purposes, and ways to make the best use of trees already on their land. The farms involved cover areas in the lowlands with high potential for profitable arable crop production, through to more marginal upland regions where livestock grazing and wildlife conservation are the primary goals. Two of the farm demonstration sites have not been established for very long (less than five years), and two have a diverse mix of woodland; from ancient deciduous and coppice woodland to commercial plantation and woodland planted in the last 20 years. All of the farmers and stakeholders in the living lab are keen to learn from each other and build a knowledge base to help themselves and others integrate more trees into their farming systems.
In some cases (i.e. Ings Farm), trees are grown for fruit, while in other cases trees for fuel have been planted (i.e. Cockle Park). Farmers are aware of the multiple functions that can be delivered by trees and there is particular interest within the group in integrating trees into systems with livestock. The benefits of trees for providing shelter to crops and livestock is important for many of our farmers who are producing food in what can be marginal climates. Gibside Community Farm is at a relatively high elevation for vegetable production and uses trees not only for production of fruit, but also to act as a windbreak. Livestock in the upland areas (i.e. Gowbarrow Hall Farm and Mindrum Estate) will benefit from the shelter provided by trees, particularly in the winter months. There is also a recognition from some of our farmers that there may be financial rewards in the future for farmers with trees on their land i.e. from private finance.
The North of England Living Lab had a first meeting in late May 2023 where farmers and other stakeholders representing academics/scientists, members of charities working in the sector, farmers, and community organisers, met and exchanged experiences and ideas about agroforestry. Challenges identified included establishment of trees in systems that include livestock, the damage that wildlife can do to newly planted trees, and overcoming the divide between pastoral versus woodland farming. There is also a challenge associated with selection of the best species of trees for systems that include livestock; what are the right species to provide good fodder and medicinal benefits to browsing livestock? A clear income stream from agroforestry systems was also identified as a barrier to more farmers taking up the practices. A lack of a coordinated policy for agroforestry in the UK was identified as something that is delaying the uptake of agroforestry in the UK. The main issues facing agroforestry in the North of England were considered to be 1) How to improve the economics of agroforestry and show it is a viable proposition; 2) How do we build up agricultural knowledge and skill in the farming community; 3) How to establish and protect young trees from grazing and pests; 4) How to demonstrate the benefits (in terms of animal welfare and woodland biodiversity) of woodland grazing; and 5) Lack of ecosystem design in UK agroforestry. In the future, the hope is to include stakeholders that represent the tree seedling industry as well as foresters and consumers, and to work closely with the team from the Agroforestry Futures project at Newcastle University (https://www.uktreescapes.org/projects/agroforestry-futures/) to broaden the reach of activities and benefit from their interdisciplinary work with artists, modellers, and wider society. The group perceives that models such as FarmTree, the Public Goods Tool, and ecosystem service analysis will be integral to addressing research questions within the Living Lab which will be based round food production, biodiversity, and carbon.