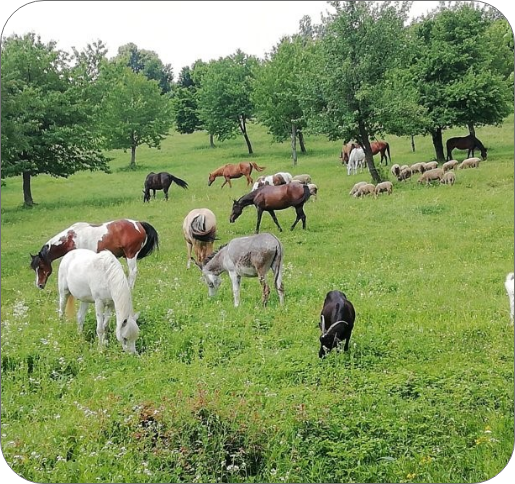 Managed by: Antal Varga, owner
General information
The living lab can be found at Olaszfalu in the hilly region of Bakony..
Antal Varga, the owner, bought this area some years ago. At that time it was an abandoned land. The owner renovated it into wood pasture.
The difference in level is large, which made the initial works difficult. When the AF was created, after the cutting of the trees and bushes the suppression of the offshoots was difficult because the wildrose, the blackthorn and hawthorn sprouted after cutting back. These species need to be cut all the time. He gradually developed the system, and today it has become one of the most beautiful wooded pastures of the Bakony. It preserves significant cultural and natural values and provides many other ecosystem services, as well as the opportunity to organize educational, cultural and professional programs.
General farming approach
Agroforestry, organic, natural and cultural value preservation land management
Objectives
Animals, food, services, training and education, demonstration.
Challenges
The intensive growth of shrubs is typical problem in this area, and it is a permanent task to suppress the unwanted invasive shrub species.
Incorporating the value of the ecosystem services provided by the reclaimed wooded pasture into the value chain.

Research goals
Plant biodiversity survey, ecosystem services value assessment and value chain analysis. Specific focus on the assessment of the medicinal plants appearing in the area as supply ecosystem service due to the management of the wooded pasture and the possibility of incorporating them into the agroforestry value chain.

Design of the agroforestry system
It is a wood pasture on 20 ha (contiguous area).
The proportion of trees in the area is about 30%, scattered throughout the area.The main tree and bush species are: oaks, turkey oaks, hornbeams, wild pears, cherries, ash tree, maple and bushes: wildrose, blackthorn, howthorn.Grazing animals are kept in the area. Main species are: horse, sheep, goat, donkey, poultry, pig.

Monitoring
Currently available baseline information:
Soil and climate data: soil properties, soil depth, altitude, annual mean temperature, annual mean precipitation
Agroforestry components: tree density, annual crops/grass, trees animals
Agronomic productivity: milk liter/year.





Silvoarable, Woodland grazing/wood pasture

Subsistence and services such as horse riding, riding camp; also research, education, training, and rural festivals venue

Inter-row/In-row distance: 24m/ +-8m

Width of tree strips: 3 m

Number of trees: tree cover: 30% of area (hornbeam, beech, ash, maple, wild cherry, wild pear, linden)

6-year rotation of potato, mais, winter wheat, leek/ cabbage, carrot/celeriac, field beans

Livestock: Yes (horse, sheep, goat, donkey, poultry, pig: one livestock unit per one hectare - 1 lu/horse , 0.6 lu/ donkey , 0,2 lu/ goat or sheep)

Open karst with a very limited soil depth of 0,05-0,1 m